The Best Virtual Guard Services for Burbank and Universal City, CA
Guardian Integrated Security is Burbank and Universal City's best choice for virtual security guard services. We are an independently owned, local private security company led by a team with over 60 years of combined industry experience. By using advanced video surveillance technology and a large team of highly trained security guards, we are able to keep businesses safe and protected 24 hours a day, 7 days a week. Over the years we have served thousands of satisfied commercial and industrial clients throughout Los Angeles County, who can attest to our superior service, competitive rates, and extensive industry knowledge.
Remote CCTV Video Monitoring Services for Universal City, Burbank, and Cahuenga/Cahuenga Pass Properties of Any Size
At Guardian Integrated Security, our virtual guard services and security plans are custom designed to meet each client's unique set of needs. This means taking into consideration their property's size and layout and their specific security concerns and vulnerabilities, in order to determine what surveillance camera technology is needed and how to best monitor and respond to incidents.
Trust Guardian Integrated Security to Protect Your Property
Our Remote Guards Effectively Protect Burbank and Universal City Businesses for a Fraction of the Cost of Traditional On-Site Guard Services
When properly designed by experienced security professionals, remote monitoring of a business's CCTV security cameras by trained, off-site security guards can be significantly more effective than traditional on-site security guards. Remote or virtual security guard services like ours don't need to be limited to only where a guard can patrol or stand watch. Instead, you can have numerous security cameras installed throughout your building to give a single guard the ability to keep watch over a much larger area without having to leave his chair. Additionally, when there's unusual activity, our guard can use two-way speakers to communicate with the suspicious person or persons to notify them that they are being recorded. This alone will often deter theft, vandalism, trespassing, and other criminal activity. If not, our guard can immediately call the local authorities. Not only are our virtual security guard services much more effective than traditional guard services, but they're also much less expensive.
Call today to learn more and to schedule your free on-site consultation and estimate. Our cost-effective virtual security guard services are ideal for a wide range of businesses in and near Burbank, Universal City, and Cahuenga/Cahuenga Pass, including:
Car Dealerships
Manufacturing Plants
Industrial Facilities
Storage Facilities
Warehouses and Packing Plants
Construction Sites
Distribution and Logistics
Property Management Companies
Parking Facilities
Retail Stores and Shopping Malls
Scrap Metal and Recycling Plants
Medical Buildings
Offices and Corporate Parks
Commercial Buildings
Financial Institutions
Energy Plants
Cannabis Facilities
And More . . .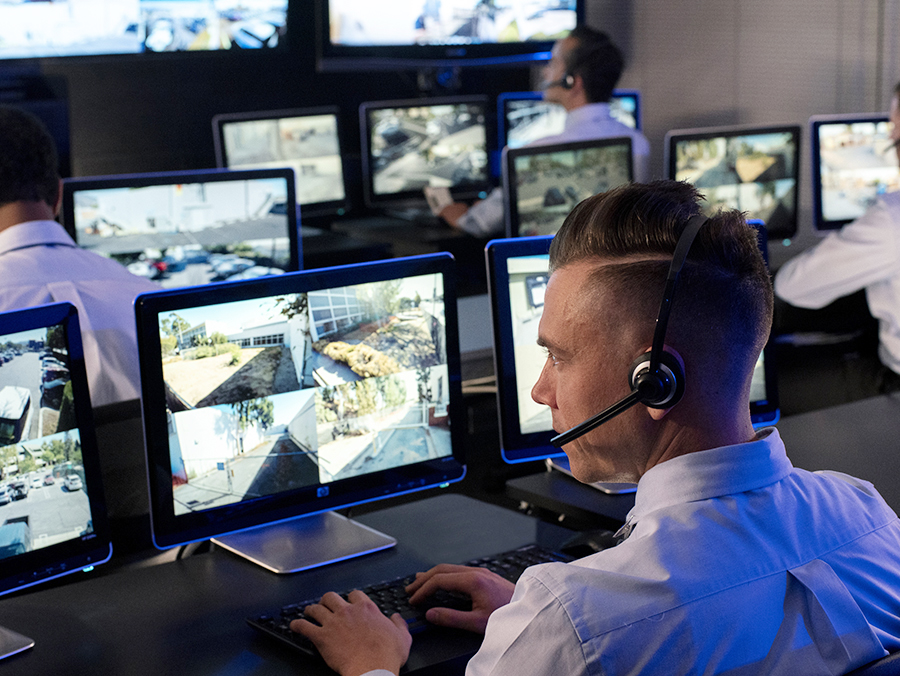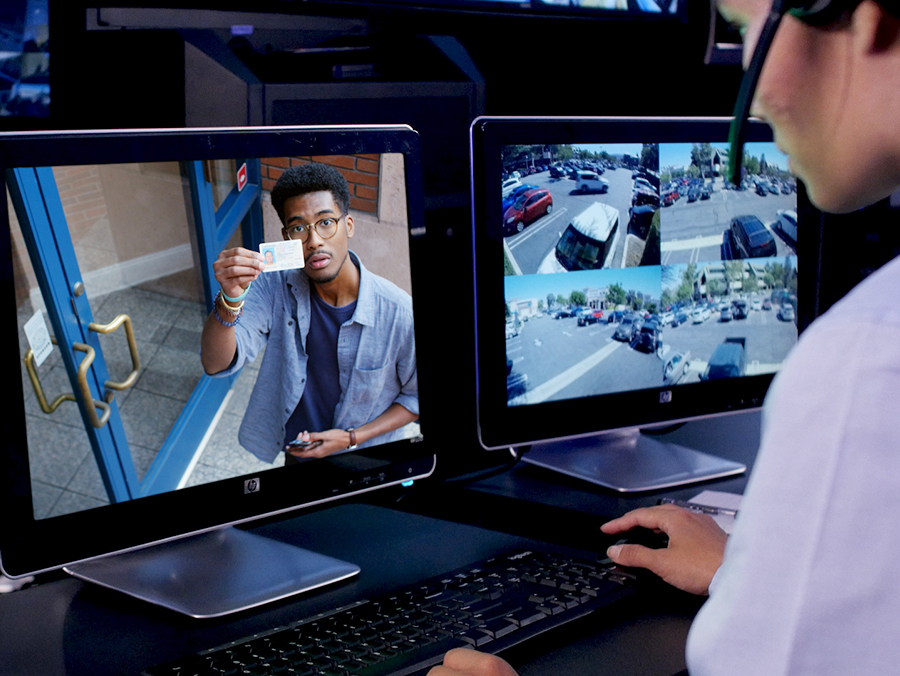 Universal City and Burbank's Best Value in Advanced Security Technology and CCTV Video Surveillance
At Guardian Integrated Security, we are committed to providing the highest quality remote security camera monitoring services at the best prices for commercial clients in the Burbank, Universal City, and Cahuenga/Cahuenga Pass area. That's why we have invested in advanced security technology that enables us to provide 24/7 security monitoring. Our video surveillance equipment and CCTV security cameras feature true night and day clarity, night vision, infrared capabilities, and more. In addition, clients also have the ability to log-in to their account and view their site at any time of the day or night. While we offer top-of-the-line security cameras and remote monitoring, our pricing is extremely competitive. In fact, we will match or beat any competitor's price.
With Guardian Integrated Security, You'll Get a Personalized Security Plan Designed Specifically to
Keep Your Burbank or Universal City Business Safe & Secure
Our virtual guard security services are fully customizable. In order to determine how to best protect your valuables and property against your known and potential threats while staying within your allowable security budget, our experts conduct a thorough on-site interview and assessment. Once they have a complete understanding of your business's unique vulnerabilities and circumstances, we will be able to provide a personalized security proposal.
Remote Video Camera Monitoring – Our First Level of Protection
For some businesses, CCTV security camera monitoring may be all you need. Our remote security camera monitoring services are fast to set up and feature surveillance equipment with advanced technological features, such as motion detection, facial and license plate recognition software, or night vision/infrared capabilities. They can be actively monitored during your business's off hours or 24 hours a day, 365 days a year. If an alarm is tripped or a motion sensor triggered, one of the guards at our command center would inspect the appropriate video monitors and initiate two-way audio to communicate with the suspicious person, letting them know that they are being watched and recorded. When necessary, we're able to immediately alert local law enforcement as well as provide instantaneous video verification. With verifiable video footage, the response time is reduced, false alarms are avoided, and the chance of catching the suspect is increased. After the incident, recorded video footage can be shared with and reviewed by property owners, police, and legal counsel.
Live Virtual "Look Ins" – Our Second Level of Protection
If a client would like a greater level of monitoring, we can add a second layer of protection with regular virtual "look ins." Our remote guards will actively scan your property every 30-60 minutes using our surveillance technology, even if no motion sensors have been tripped.
Nightly On-Site Patrol Services – Our Third Level of Protection
Finally, for businesses in and near Burbank, Universal City, or Cahuenga/Cahuenga Pass that want a visible security presence at their site, we can include nightly patrol services performed by a fully licensed & insured live security guard who will arrive to your property in a clearly marked patrol vehicle. Our dedicated security guards are professionally trained to notice any suspicious activity our cameras or motion sensors might have missed.
---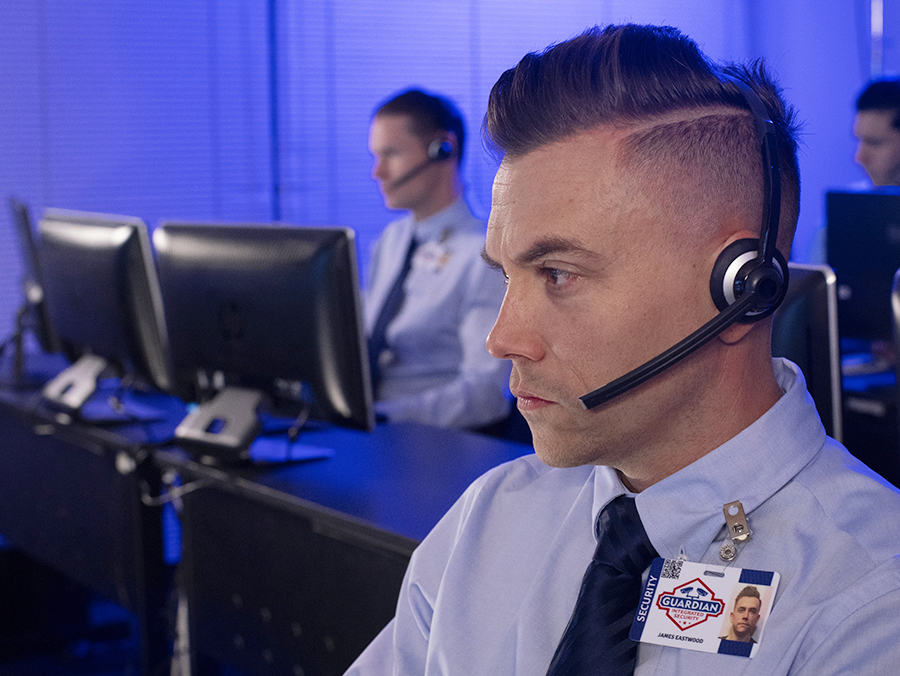 ---
Experienced, Licensed Virtual Security Guard Company Serving Burbank, Cahuenga/Cahuenga Pass, Universal City & Surrounding Areas
With our fully customizable and highly effective virtual security guard service, you'll deter crime, trespassing, loitering, and unwanted behaviors without the huge expense of traditional security guard services. Many clients who have switched from having on-site guards to our remote guarding service have cut their security costs by as much as 60-70%! Give Guardian Integrated Security a call today to learn more about our virtual guard services with remote security camera monitoring services.
Guardian Integrated Security Burbank – 91501,91502, 91505, 91506, 91521 California (CA)
Area code (818)