Protect Your Commercial or Private Parking Garage, Structure, or Lot with CCTV Surveillance Equipment
and Live Monitoring by Remote Guards
Parking facilities are notorious for attracting a wide range of criminal activity, from soliciting and vandalism to car break-ins and muggings. Their large size, poor lighting, numerous hiding spots, and considerable opportunities for finding unlocked cars and valuable property make them lucrative targets for professional and opportunistic criminals alike.
To deter crime and other unwanted behavior at your parking facility, Guardian Integrated Security provides live security camera monitoring by trained remote guards. This virtual guarding service combines state-of the-art surveillance equipment with real-time intervention capabilities to make your parking facility a less-appealing target to thieves and troublemakers. Applying over six decades of combined industry experience, our team of security experts will work closely with you to create a thorough, fully customized security plan that enhances safety and security at your parking lot or garage while maximizing or reducing your security budget.
---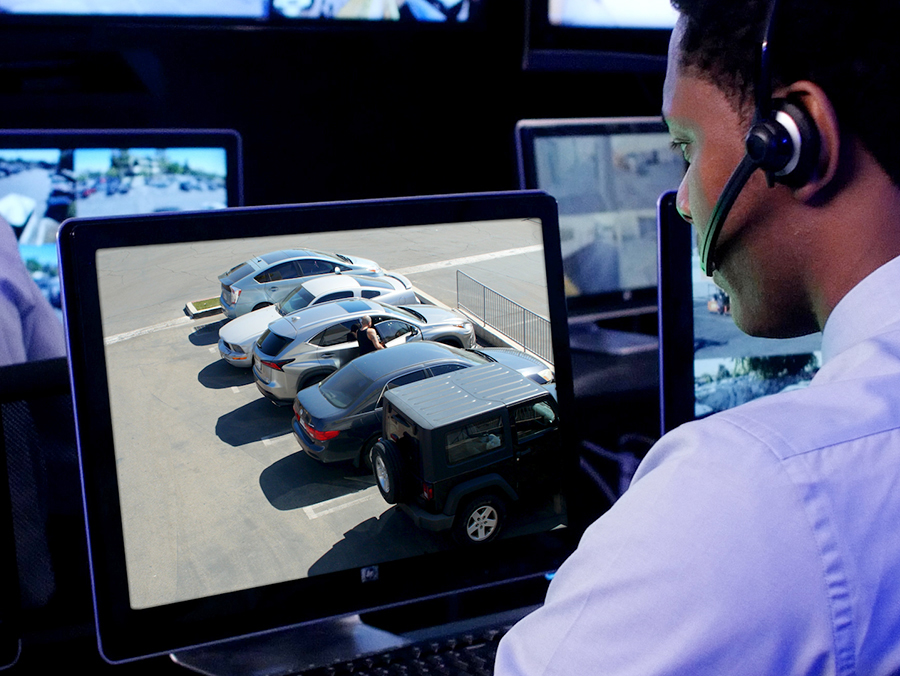 ---
How Our Virtual Guarding Services Help Parking Lots & Garages Reduce Criminal Activity &
Maintain a Safer Environment At an Affordable Rate
Traditional standing guards require high labor costs and have limited capabilities, especially when covering expansive parking lots and structures. At Guardian Integrated Security, our remote guarding services are designed to offer improved security that is both effective and cost-competitive. We start with an on-site assessment to determine your parking facilities specific vulnerabilities and threats and then design a security plan to address them. We rely on state-of-the-art CCTV video surveillance technology to provide coverage throughout your facility. Typically, we will focus on entrances and exits, remote spaces, locations with limited visibility, and areas that have been frequent targets in the past. These strategically placed cameras are equipped with motion detectors that immediately alert the guards at our command center of any suspicious movement and activity. Guards can then respond in real-time using the system's two-way audio communication to make the transgressor aware of our presence, let them know they are being recorded, and that local law enforcement is on the way.
Our CCTV security cameras roll 24 hours a day, 7 days per week, and can be equipped with advanced features, such as night vision for true night-and-day clarity or license plate/facial recognition software. Additionally, business owners can access live and recorded footage of their property at anytime and from anywhere. With our high-resolution surveillance equipment and clearly posted notices, our camera footage is often admissible in a court of law. For greater crime deterrence, we can also supplement our remote guarding services with on-site security guard patrol services.
Call Guardian Integrated Security Today for LA and the San Fernando Valley's Best Value in
Private Security Services for Parking Lots, Garages & Structures
Call (800) 400-3167 today to learn more or to schedule your free on-site assessment. Guardian Integrated Security is a fully licensed and insured private security company that offers its affordable, effective, and reliable parking lot security services throughout Woodland Hills, Van Nuys, North Hollywood, Burbank, Encino, and other nearby Los Angeles and San Fernando Valley locations. All of our virtual guard services are customized to the needs and budget of each client, and we promise to match or beat any competitor's price without sacrificing value or dedication to your business's safety and security.