High Quality, Cost-Effective Virtual Security Guard Services to Protect Your Los Angeles, CA Property 24 Hours a Day, 7 Days a Week
If you own or operate a business in Los Angeles, you already know the importance of using high-quality, dependable security services. Private security services help deter theft, vandalism, trespassing, and other types of unwanted or criminal activity. When business owners think of private security they typically think of security guard services which can become quite expensive if a business wants to truly meets its security goals.
At Guardian Integrated Security, we believe businesses of all sizes, no matter their budget, should be able to have effective and affordable security, which is why we are committed to offering a wide range of security solutions, such as virtual guard services.
By using the latest in advanced security system technology, a highly trained staff of licensed security professionals, and the industry's best practices, we ensure that your property, assets, employees, and visitors are protected at all times of the day or night.
---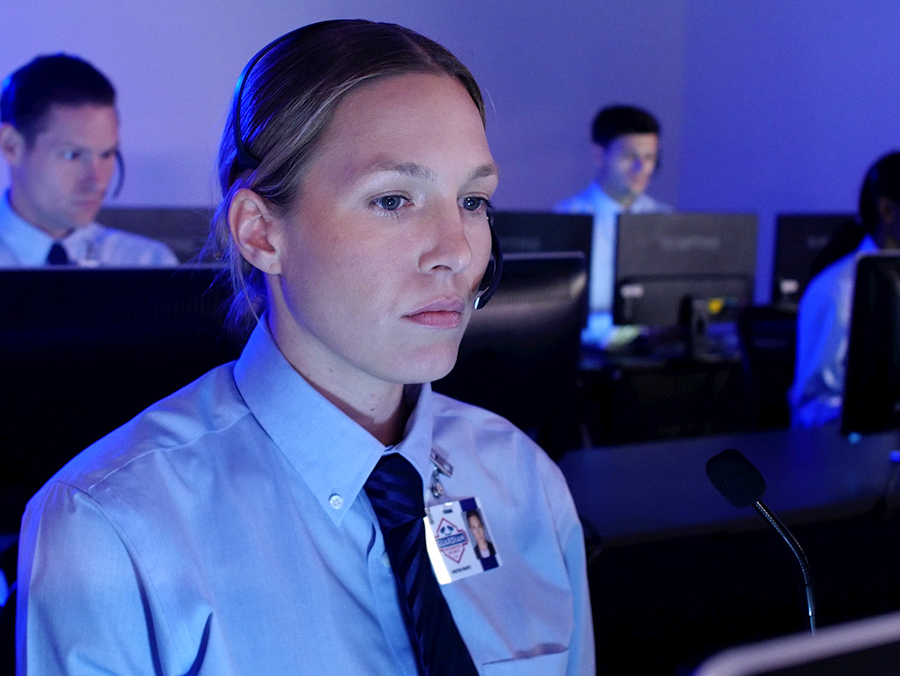 ---
Los Angeles's Preferred Virtual Security Guard Company
Guardian Integrated Security is a locally owned private security company that is dedicated to the safety of our Los Angeles clients. We are led by a security management team with over 60 years of combined experience. Their ability to deliver highly reliable and effective security services has earned the trust of thousands of business owners and property managers throughout the Greater LA Area. Whether you need our remote guards to control access at a Chinatown apartment building, improve after-hours security at a Downtown Los Angeles construction site, or protect parking spaces and discourage theft at a private parking garage in the Mid-Wilshire area, we have the skills and expertise to develop an extremely effective, custom-designed security solution at a price you can afford.
Our virtual security services come at just a fraction of the cost of traditional on-site security guard services. On average, our clients save up to 70% when they switch from on-site to off-site/virtual guard services, an investment that can potentially pay for itself within just a few months. Contact us today to schedule a personalized on-site security assessment and estimate for your Los Angeles business.
Trust Guardian Integrated Security to Protect Your Property
Remote Virtual Guard Services for Properties of All Sizes In Los Angeles, Downtown LA, and Nearby Areas
Our remote video security camera monitoring services are completely customizable and scalable, making them ideal for nearly any industrial, commercial, or corporate location in LA and surrounding areas, including:
Warehouses
Industrial Facilities
Manufacturing Facilities
Scrap Metal Plants
Construction Sites
Recycling Plants
Distribution and Logistics
Storage Facilities
Car Dealerships
Property Management Companies
Parking Structures
Retail Stores and Shopping Malls
Medical Buildings
Offices and Corporate Parks
Banks and Financial Institutions
Energy Plants
Cannabis/Marijuana Facilities
And More
The Best Value in Live Remote CCTV Monitoring and Video Surveillance Technology in Los Angeles, CA
At Guardian Integrated Security, our CCTV security cameras never sleep! When you hire us to protect your property and assets, you can rest easier knowing that we will have you covered 24 hours a day, 365 days of the year. By using the most advanced modern-day surveillance technology, such as multi-point security camera systems, two-way audio speakers, and motion-detecting sensors, we are able to provide comprehensive coverage throughout your premises. For even greater peace of mind, our Los Angeles clients can choose to include security cameras equipped with night vision, thermal imaging capabilities, facial recognition, license plate identification, and more. Our surveillance systems can be monitored remotely by the guards at our Command Center as well as the authorized personnel at your business.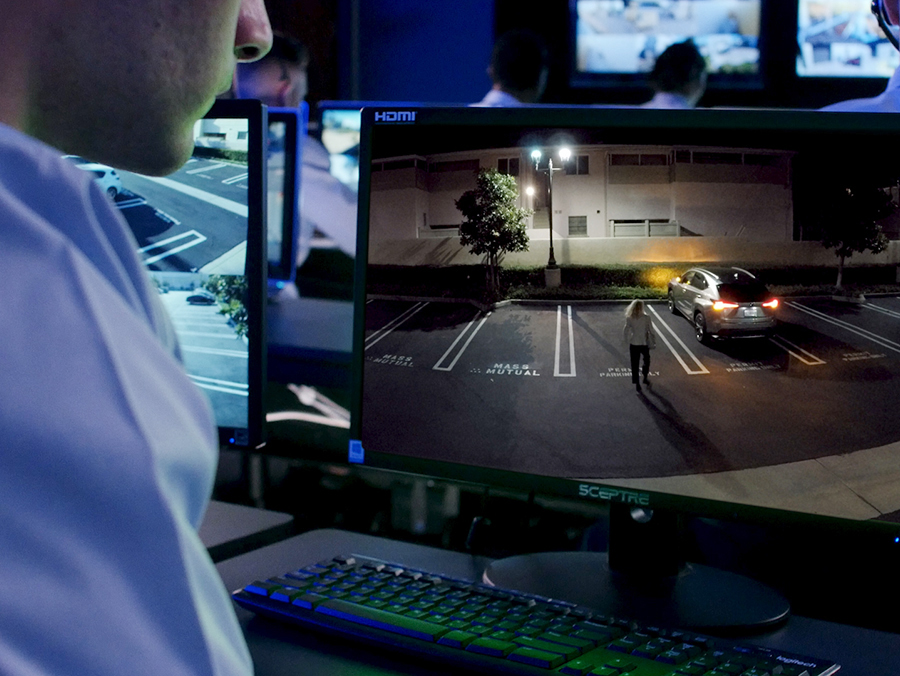 Virtual Guard Services Designed to Meet Your LA Business's Specific Needs
Security solutions are most effective when they are tailored to the needs of the business. That's why we offer fully customizable virtual guard services. For businesses primarily interested in security, we can provide different levels of protection. We can have our guards monitor your camera's live footage only when unusual or suspicious activity is detected, or we can be more proactive and add in virtual "look-ins" every 30-60 minutes to our remote CCTV camera monitoring services. For client's wanting a visible, on-site presence, we can also have one of our BSIS-licensed guards patrol your site once a night in a marked security vehicle
Additionally, we can design our virtual guard programs to serve a variety of other needs, such as:
Virtual Guard Escort: An option well suited for employees, staff, or customers who are leaving your business after hours, our remote guards can act as video guard escorts, ensuring the safety of persons walking from one destination to another.
Alarm Assistance: With Guardian Integrated Security's virtual guard services, your LA business can avoid costly false alarms and get a faster response from the police or fire department when there are verified emergencies or incidents.
Workplace Compliance: Surveillance monitoring can be used to encourage and enforce adherence to a company's operational procedures and safety protocols. It can also help identify production inefficiencies, reduce risky behavior, and determine the cause of on-the-job injuries. All recorded footage can be accessed and used as evidence in a court of law to provide valuable evidence to dispute fraudulent workers' comp and insurance liability claims.
Virtual Doorman: Our remote guards can serve as a reliable, cost-effective alternative to an on-site doorman who might easily fall asleep on the job, show up late, or otherwise fail to deliver consistent coverage. When serving as a virtual doorman, one of our remote guards can carefully manage entry access, making sure to only allow authorized personnel, tenants, and approved service providers into a business, gated community, apartment building, or unmanned lobby.
Lone Worker Monitoring: We can keep a watchful eye on an employee who is working by themselves after hours to ensure their safety in an empty office or corporate building as well as discourage criminal misconduct and prohibited conduct.
Contact Us Today to Schedule a Personalized On-Site Security Assessment and Find Out How
Virtual Guarding Can Benefit Your LA Business
To learn more about our virtual guard services, click here or give us a call today. One of our private security specialists will answer any questions you may have and schedule a convenient on-site consultation, we can provide our virtual guard services to private properties anywhere in the City of Los Angeles, including Downtown LA, South Los Angeles, Eagle Rock, Mid City, Central LA, Los Feliz, Silver Lake, Chinatown, Boyle Heights, Toluca Lake, Chatsworth, Woodland Hills, Canoga Park, Sylmar, and all areas in between. We are committed to improving our clients' safety and reducing their security costs, which is why we will beat or match any competitor's quote for remote security guard services.