CCTV Video Surveillance Systems with Remote Live Monitoring to Improve Safety & Security at
Warehouses, Manufacturing Facilities & Other Industrial Sites
At Guardian Integrated Security, we use state-of-the-art CCTV surveillance equipment, highly trained remote guards, and custom-designed security plans to provide exceptional security services to industrial and manufacturing businesses throughout Los Angeles and the San Fernando Valley. By providing personalized solutions, following the private security industry's best practices, and staying up to date with innovative advancements in technology, we have thousands of satisfied clients and are a trusted vendor for many well-known brands throughout Southern California.
Our locally owned, fully licensed and insured private security company is managed by a team with over 60 years of combined experience implementing customized security plans for businesses of nearly every size and industry. This is why we can confidently say that our virtual guarding services, also known as remote CCTV video surveillance monitoring, offers our industrial and manufacturing clients more effective, reliable, and affordable 24/7 protection than traditional standing guards services.
Virtual Guarding Offers Enhanced Protection for a Fraction of the Cost of Traditional, On-Site Security Guard Services
Typically 60-70% less costly than standing guards, our comprehensive remote guarding services address site weaknesses to effectively prevent:
Theft of equipment and machinery
Stolen product & inventory
Property damage
Vandalism
Unauthorized entrance
Liability risks/litigation
Fraudulent workers' comp claims
Malicious behavior
Loitering
Other criminal and unwanted activity
---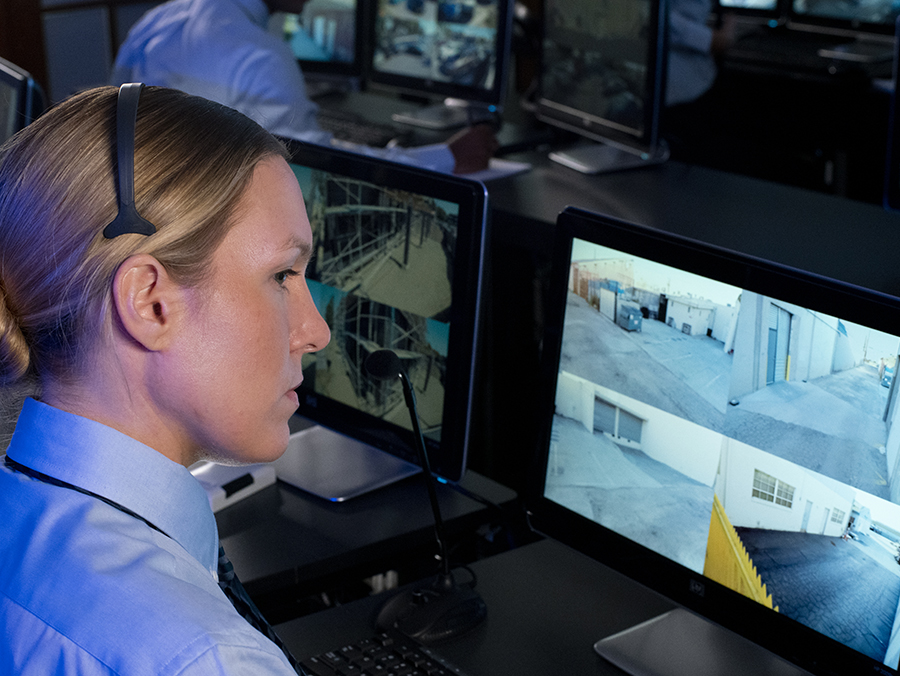 ---
To ensure maximum effectiveness, our remote-access security cameras can be equipped with the following capabilities:
Motion Sensors:
Not only do our remote guards perform preemptive site check-ins every 30 minutes, but they are also immediately alerted when one of our strategically placed motion sensors are triggered by any kind of movement.

Infrared (IR) Night Vision:
Our surveillance cameras provide high-resolution zoom capabilities during daytime hours, as well as in low-light and complete darkness.

Two-Way Voice Monitoring:
Two-way audio speakers ensure that guards can see, hear, and respond to workers, site managers, and potential intruders in real-time.
License Plate & Facial Recognition:
Facial recognition software enables guards to identify trespassers and capture clear, high-resolution footage of criminals. Meanwhile, license plate identification software can help to monitor facility parking lots to detect and record the presence of unauthorized vehicles.

Client Management Software:
Site owners and managers can remotely access live video footage of their industrial manufacturing facility at any time of day or night.
Aided by the best in surveillance technology, the remote guards at Guardian Integrated Security are able to maintain an active, attentive presence on your facility at all times. When our guard observes suspicious or criminal activity at your site, or an emergency requiring an immediate response, our live operators will immediately notify the police. Because we have guards remotely monitoring live-feed cameras in real time 24 hours a day and direct lines to local law enforcement, we can often dispatch the police faster than any on-site standing guard. Our captured video footage may also be used as evidence in a court of law.
Call Guardian Integrated Security Today for Los Angeles & the San Fernando Valley's Best Value in
Industrial & Manufacturing Security
At Guardian Integrated Security, our virtual guarding services always begin with an on-site security assessment and consultation. A member of our management team will travel to your warehouse, factory, or manufacturing plant to determine how we can help you get maximum protection from our live remote video surveillance services at a price you can afford. We will give you the best price for virtual guard services, guaranteed. In fact, if you are quoted a lower price from another company that offers live CCTV security camera monitoring in the Los Angeles or San Fernando Valley area, we promise to match or beat it. Call today to schedule your free consultation and estimate.