Highly Effective Virtual Security Guard Services for Thousand Oaks,
Westlake Village, and Agoura Hills, CA
The team of licensed security experts at Guardian Integrated Security is dedicated to providing exceptional virtual security guard services to Thousand Oaks, Westlake Village, and Agoura Hills businesses. Using the industry's best practices, cutting-edge surveillance technology, trained guards, and innovative solutions, we're able to deliver highly effective security plans for businesses of all sizes throughout Los Angeles and the San Fernando Valley.
We Combine Advanced Security Surveillance Equipment with Real-Time Monitoring by
Trained Guards to Provide Exceptional Protection at an Affordable Price
At Guardian Integrated Security, our virtual guarding services use on-site CCTV security cameras, strategically placed at entrances and exits, outside your building or property's perimeter, near valuable merchandise, and other areas of concern. These cameras can record activity 24 hours a day, 7 days a week, and can be viewed at any time by a business's authorized personnel. When an alarm or motion sensor is triggered, then our guards review your camera's feed in real time. If unusual or suspicious activity or individuals are observed, our guard can use our two-way voice system to announce their presence and immediately notify the local law enforcement when appropriate.
Our owner has over 20 years of experience serving the private security needs of thousands of satisfied clients and understands how it important it is to tailor security measures to each business's unique set of challenges, size, industry, and vulnerabilities. For example, our virtual guard or remote surveillance monitoring services can be supplemented with proactive look-ins every half hour. We can also add-on nightly patrols at your site by a physical guard for added coverage and visibility.
Call Guardian Integrated Security to get a personalized security strategy for you business in or near Thousand Oaks, Westlake Village, or Agoura Hills. We not only provide superior virtual guard services, but we also offer highly competitive pricing. In fact, if you find a competitor that offers comparable services at a lower price, we guarantee to match or beat it.
Trust Guardian Integrated Security to Protect Your Property
Remote Security Camera Monitoring for Thousand Oaks, Westlake Village, and Agoura Hills, CA
At Guardian Integrated Security, we have the skills, technology, and expertise to offer thorough and affordable protection for businesses in nearly any industry, including but not limited to:
Parking Lots and Garages
Medical Facilities
Industrial Facilities
Manufacturing Plants
Industrial Warehouses
Distribution & Logistics Centers
HOAs & Property Management
Storage Units/Facilities
Offices and Commercial Buildings
Retail and Shopping Centers
Scrap Metal & Recycling Plant
Cannabis Dispensaries and Grow Facilities
Auto Dealerships
Energy Plants
Construction Sites
Financial Institutions
And More!
Each of our highly effective security plans is custom designed to meet the budgets and unique needs of our clients. Equipped with CCTV video surveillance cameras, our virtual guards are able to remotely monitor properties of any size, offering real-time response rates and comprehensive site coverage at extremely reasonable prices.
---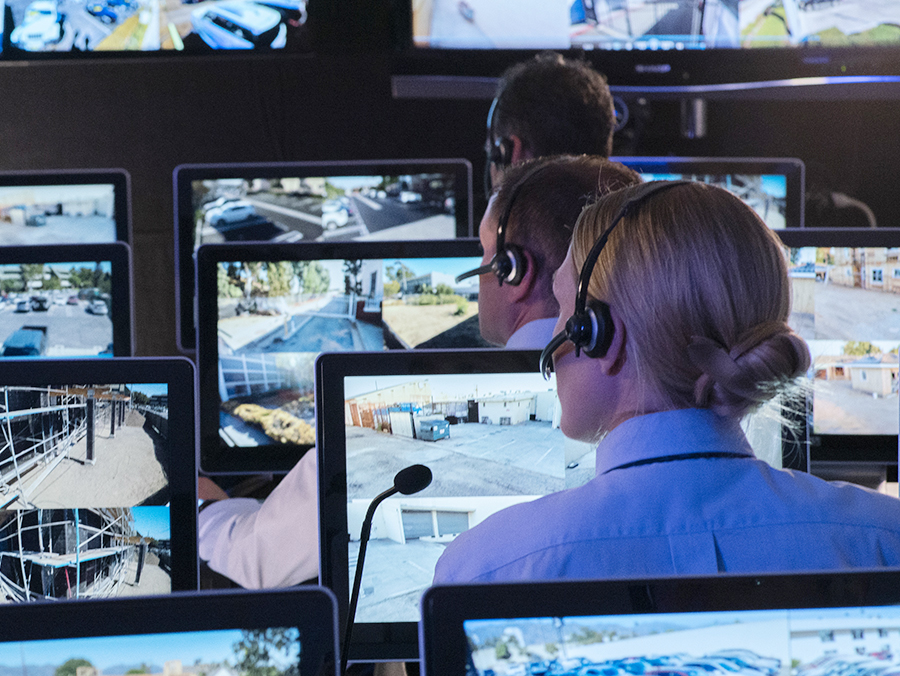 ---
24/7 Live Security Camera Monitoring for Construction Sites Near Thousand Oaks, CA
Guardian Integrated Security provides reliable remote security camera monitoring for construction sites in and near Thousand Oaks, Westlake Village, and Agoura Hills. We know that job sites in the early phases of construction are especially vulnerable, and that contractors can face increased insurance premiums and liability claims as a result of these risks. By having professionally trained remote guards monitor your site through high-resolution security cameras strategically placed throughout your site, we help prevent:
Theft of expensive machinery/materials
Loitering
Trespassing
Fraudulent workers' comp claims
Internal theft
Property damage/graffiti
Pilfering
Accidents
Criminal activity
Unsafe behavior
Our highly customizable security plans can include nightly on-site patrol visits by trustworthy security guards licensed by the State of California's Bureau of Security and Investigative Services (BSIS), and/or we can incorporate supplemental standing guards during normal operating hours.
Call us today to see how we can best protect and secure your construction site in Thousand Oaks, CA or nearby area.
Virtual Security Guard Services To Improve Auto Dealership Security in Thousand Oaks,
Agoura Hills, Westlake Village, and Surrounding Areas
At Guardian Integrated Security, we will develop a virtual security guard strategy to deter auto theft, vandalism, trespassing, loitering, and other criminal activities at your Thousand Oaks, Westlake Village, or Agoura Hills car dealership. Our CCTV security cameras can be placed throughout the premises, including:
Sales lot perimeters
Showrooms
Visitor parking lots
Service & repair entrances/exits
Storage areas & security cages
Waiting rooms/lounge areas
Areas that are inaccessible or hard to reach by traditional standing guard
Each security camera is equipped with two-way voice audio, which means that our virtual guards can communicate with a transgressor to elicit immediate intervention in the case of an emergency or criminal activity. In a sense, each camera acts as its own virtual guard and allows our team to access multiple locations throughout your auto dealership at once, saving you the high costs for traditional on-site guards without sacrificing quality coverage.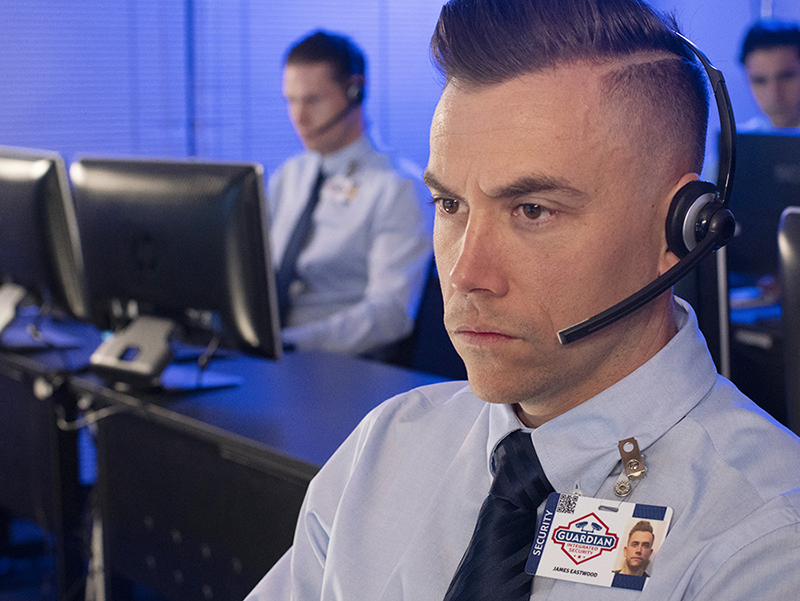 Thousand Oaks' Best Value in Remote Guarding Services for Parking Lot Security
Parked cars, blindspots, dark corners, and the expanse of parking facilities make them an easy target for criminal activity. The well-trained professionals at Guardian Integrated Security are committed to improving the parking lot safety of your Thousands Oaks, Westlake Village, or Agoura Hills business. Our remote guarding service is an effective and cost-competitive choice for monitoring entrances, exits, and site perimeters for seamless coverage throughout your parking lot, parking garage, or commercial parking structure. Using advanced CCTV security cameras equipped with two-way audio speakers, night vision/infrared capabilities, and facial and license plate recognition software, we are able to provide real-time intervention as well as recorded footage that can be used in a court of law. Call us today to learn more!
Call Guardian Integrated Security Today to Schedule Your Personalized On-Site Assessment In or Near Thousand Oaks!
As a testament to our unparalleled virtual security guard services, we are willing to beat or match our competitors' pricing to give you the best value in remote guarding. We will visit your commercial or industrial property in Thousand Oaks, Agoura Hills, Westlake Village, or other nearby city to provide a free on-site assessment and upfront quote. Whether you are looking to create a new security strategy, or would like to supplement your current practices with our remote guarding services, we will design a security plan to meet your needs and your allotted budget.
Guardian Integrated Security Thousand Oaks, Westlake Village, and Agoura Hills – 91360, 91362, 91361, 91362, 91301 California (CA)
Area code (805, 747/818 )