South Bay, CA's Best Choice for Professional Virtual Security Guard Services
For the best value in virtual security guard services, property managers and business owners in South Bay, CA, including Redondo Beach, El Segundo, Manhattan Beach, Hermosa Beach, and surrounding areas can call on the experts at Guardian Integrated Security. Our dedicated team of private security specialists has over 6 decades of collective industry experience delivering low-cost, fully customized security solutions to thousands of satisfied clients throughout LA and the San Fernando Valley.
How Guardian Integrated Security's Remote Security Guard Service Works to Protect Your
Industrial/Commercial Business in South Bay, CA
With our virtual security guard services, you'll get real-time intervention and reliable crime deterrence at a great rate. Guardian Integrated Security's Command Center operates 24 hours a day, 365 days a year and houses state-of-the-art video surveillance equipment that is monitored by vigilant and highly trained remote security guards. Following the industry's best practices and latest techniques, our guards keep a watchful eye on your South Bay business via multi-point camera systems. Installed throughout your property, each CCTV security camera is equipped with motion detectors that will immediately alert our guards once tripped. When suspicious activity is detected, our remote guards can use two-way audio speakers to communicate with any persons on your site. Adept at assessing situations and taking decisive action, guards will notify local law enforcement in the case of an emergency and can often elicit faster dispatch and response times than on-site security guards. To learn more about our virtual guarding procedures, click here or call today.
Trust Guardian Integrated Security to Protect Your Property
Expert 24/7 Live Remote CCTV Monitoring for Any-Sized Business or Industry in El Segundo, Redondo Beach, Manhattan Beach, Hermosa Beach, or Nearby South Bay Location
Whether you need to increase building safety at an apartment complex in Lake View Terrace or protect an industrial or manufacturing warehouse in Arleta, we have the skills, equipment, and expertise to provide a solution that fits your needs and budget. Our fully customizable virtual security programs are ideal for:
Retail shops and malls
Parking structures
Scrap metal & recycling plants
Manufacturing facilities
Industrial buildings
Storage facilities
Construction sites
Corporate offices
Cannabis facilities
Medical buildings
Auto lots & car dealerships
Medical facilities
Banks and credit unions
Distribution and logistics
Guardian Integrated Security is a locally owned, fully licensed and insured private security company serving South Bay, CA and nearby areas. We are proud to be a member of the California Alarm Association (CAA), the Electronic Security Association (ESA), and the Better Business Bureau (BBB).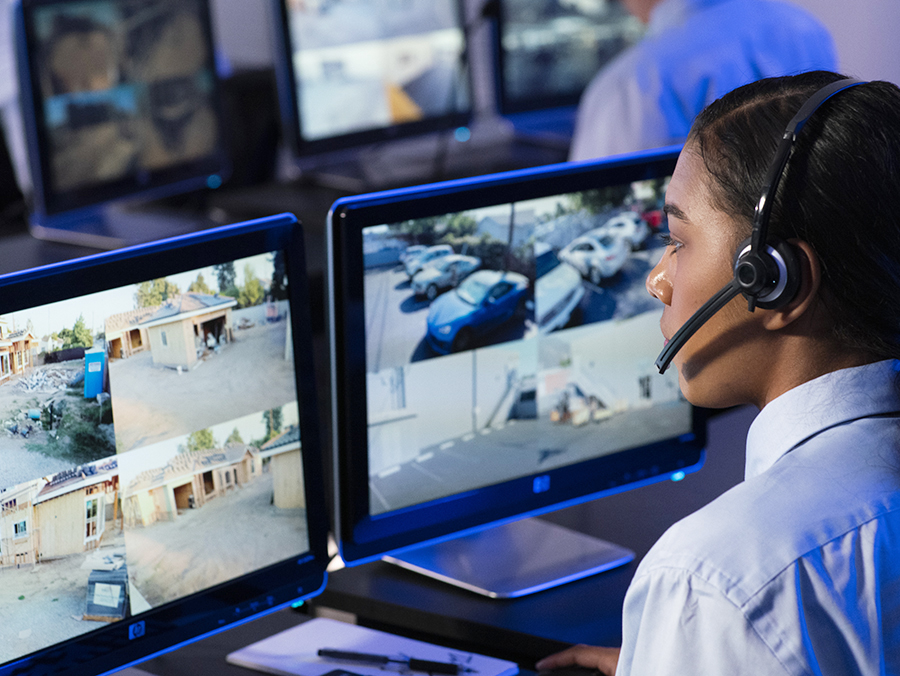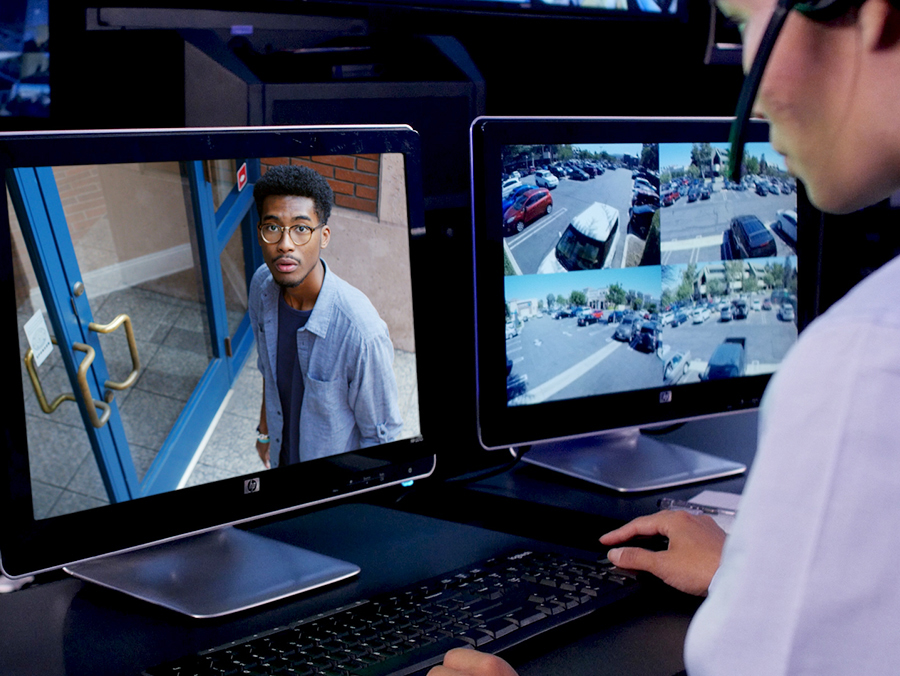 South Bay Businesses Rely on Trained Remote Guards for Alarm Assistance, Worker Compliance & More
Guardian Integrated Security is dedicated to protecting our South Bay, CA clients' property and assets, as well as creating a safe environment for their customers, employees, and visitors. That's why we use the best in surveillance technology and equipment. Using technologically advanced CCTV cameras, two-way audio speakers, motion detectors, and advanced capabilities, like facial recognition, license plate identification, night vision, and thermal imaging, our remote guards can effectively see, hear, and respond to any suspicious activity on your premises.
Our integrated security surveillance systems also make our remote guarding services extremely versatile and adaptable for a range of applications, including but not limited to:
Workplace Compliance: Avoid on-site accidents, liability issues, and fraudulent workers' comp claims by remotely accessing live or recorded video footage to ensure that your employees are following safety standards, local laws, and best practices while on the clock.
Alarm Assistance: Our remote guards can confirm whether or not a triggered alarm is an actual emergency, saving you the costly fees associated with false alarms. When someone pushes an alarm on your property, our remote guards will assess the situation and only contact local authorities when truly necessary.
Lone Worker Monitoring and Video Guard Escort: Our guards can provide remote video protection to employees working alone, particularly after normal business hours, late at night, or during weekends and holidays. Our remote monitoring can also be used as an additional safety precaution when your employee needs to walk to and from workspaces and employee parking areas alone.
Monitored Doorman: Remote guards are trained to identify authorized personnel, tenants, and approved visitors and grant them access to your building. This service is ideal for controlling access when you have an unmanned lobby, gated community, or secured loading zone.
At Guardian Integrated Security, our CCTV security cameras never sleep! All live-stream and recorded video footage can be accessed day or night by property owners and can provide valuable evidence if necessary for use in court proceedings.
---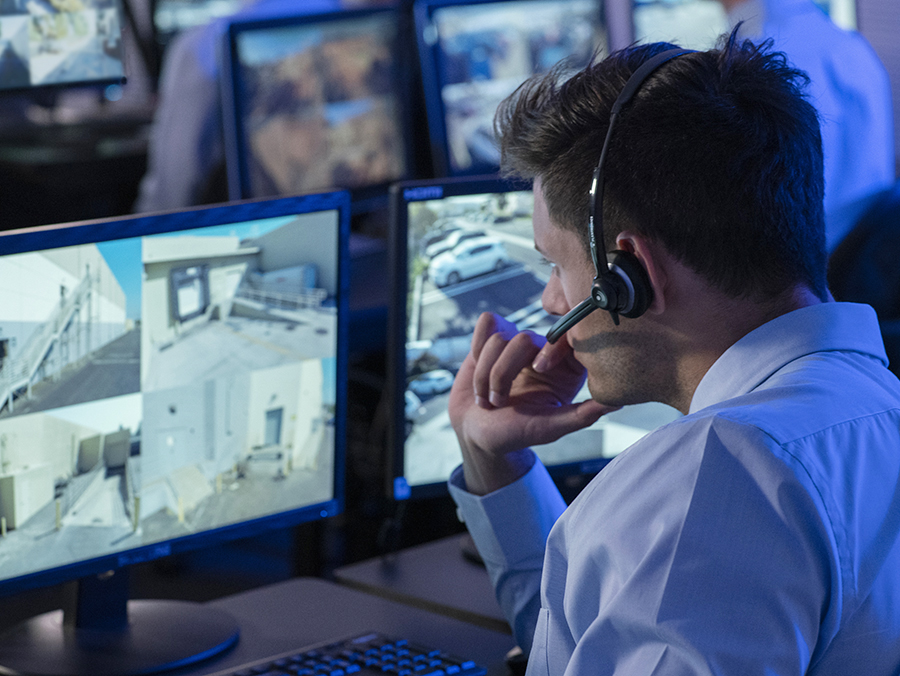 ---
Save on Security Costs By Switching to Remote Security Camera Monitoring
When you choose Guardian Integrated Security, you receive exceptional protection at a fraction of the cost of hiring an on-site security guard company. In fact, most of our clients save up to 60-70% on security costs when they replace their security guards with virtual guard services! Not only is virtual guarding more cost-effective than traditional security guard services, but it also offers greater coverage, a faster response, and camera footage that can be used to catch criminals and hold them accountable. Contact us today to learn more!
Convenient On-Site Security Assessments for Businesses of All Kinds Throughout South Bay, CA
Give us a call today to schedule a personalized on-site consultation with one of our experienced private security specialists anywhere in or near Manhattan Beach, Redondo Beach, Hermosa Beach, El Segundo, or nearby South Bay location. After identifying the unique security vulnerabilities of your property, we will provide you with a detailed security plan that efficiently addresses all of your security concerns.
Guardian Integrated Security Pacoima, Arleta, Lake View Terrace, Hansen Dam, Hansen Hills, and Kagel Canyon – 91331, 91333, 91334, 91342, 91352 California (CA)
Area code (805, 747/818, 402 )